TEDxAmsterdamED 2016 – Overall impressions of an inspiring day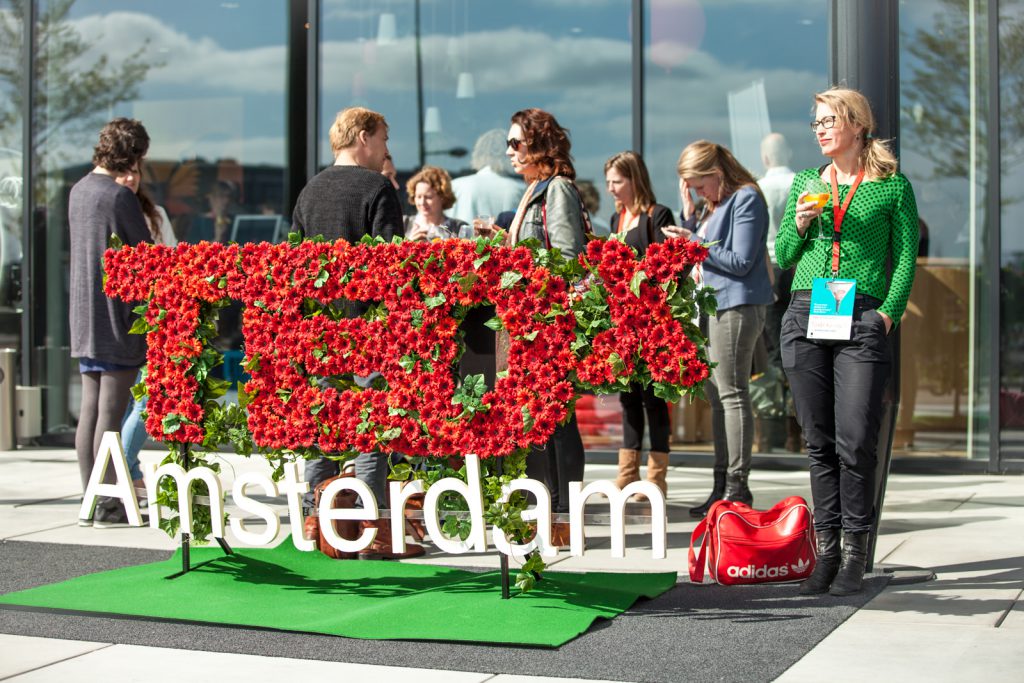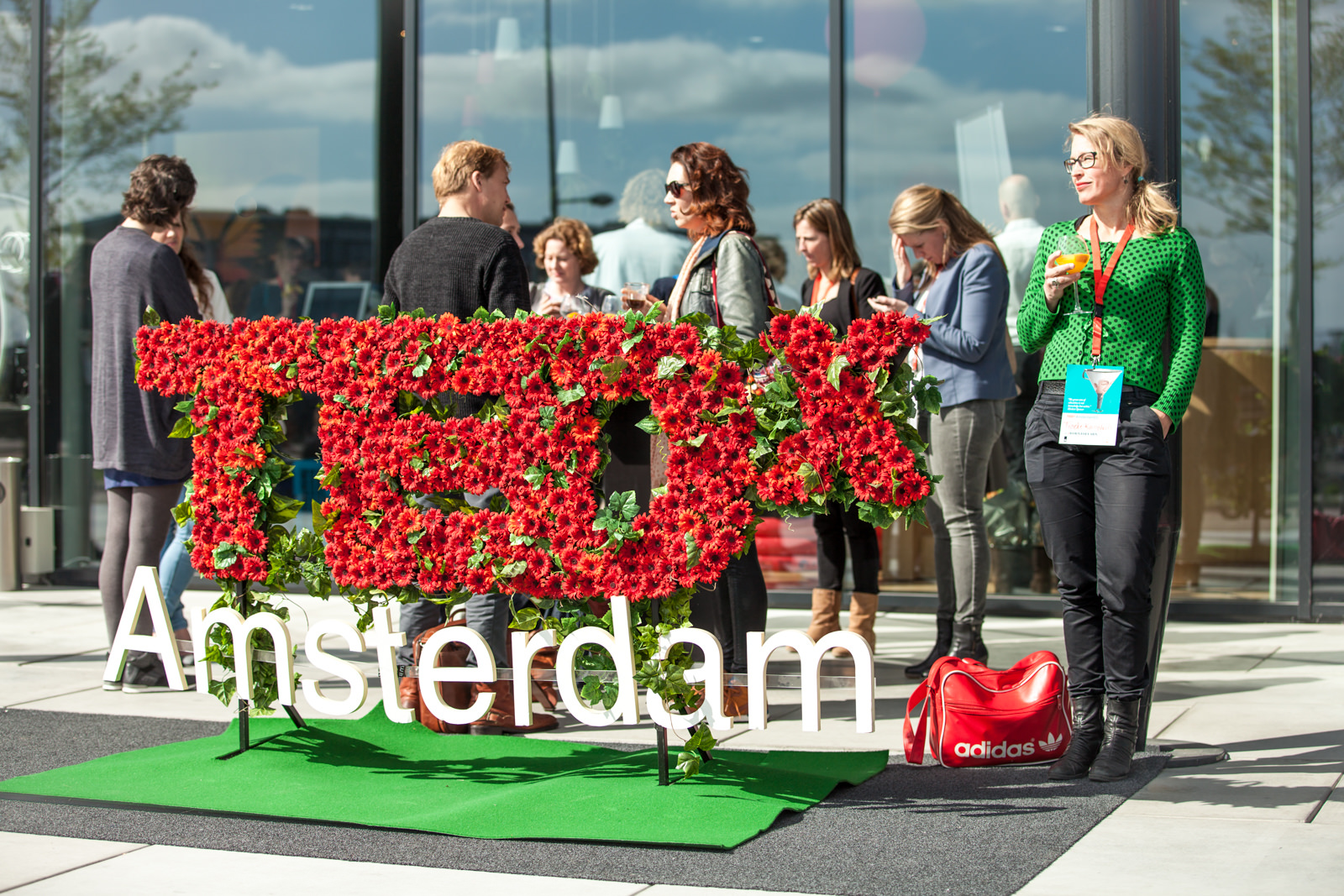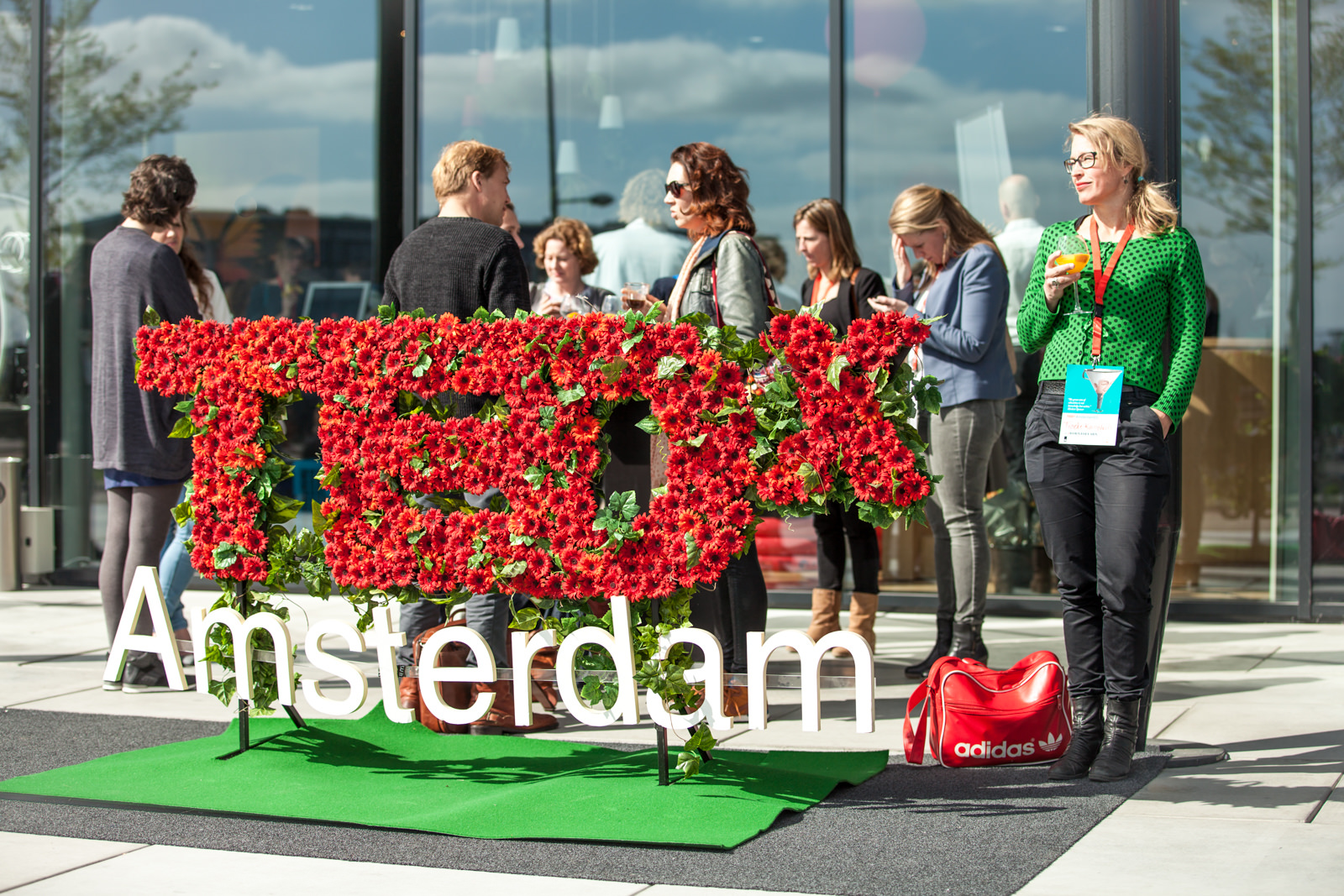 Education is hot!
What do 600 people in the audience, 75+ volunteers, twelve keynote speakers, several performing artists and workshop hosts have in common? They were all present at the fourth edition of the TEDxAmsterdamED event, with the unique opportunity to create a full day environment to rethink education. The main topic of this year's edition was #BorntoLearn and lifelong learning.
An interactive and packed day, full of surprises
Hosted at the gorgeous Theater Amsterdam, on Wednesday April 20th 2016, it was a day to remember. The program was separated into four different blocks all linked to an inspiring education or learning quote, and in between, there was room for almost everything: to listen, to question, to interact, to relax, to recharge, to connect, and of course: to learn.
© Baber Raja
At the entrance of the venue, attendees were welcomed by two flower ladies and invited to kickstart the morning with some fruit and coffee. Minutes later, I witnessed one of the most powerful energisers ever. Imagine this, you're attending an event as a spectator, expecting to hear inspiring talks, and all of a sudden you're on stage with the other 450 participants holding a plastic, coloured tube in you hand. The auditorium seats are all empty, as everyone is on the stage, and you are there, not sure what to expect. Conducted by Mark Dodsworth, we kicked off the day with a Tubular Symphony that got everyone standing, making music and sparking the energy levels immediately. Your can watch this fantastic energiser here.
Jessika Lynch, founder of TEDxAmsterdamED started off the morning's talks. The objective of the day was clear: let's all get inspired and generate more dialogue between the internal and external world of education. Afterwards, Dolores Leeuwin, our host for the day, challenged the audience: 'The way we are teaching our kids is not the only option,' thus making clear that the status quo was going to be challenged throughout the day.
Act 1
'Education is the most powerful weapon which you can use to change the world.' – Nelson Mandela
The audience was enthusiastic. Teachers, entrepreneurs, municipal authorities, volunteers, interested and curious people, education rebels, and rebels in general. All expectant and holding their breath, staring at a dark stage with a spotlight in the center, ready to begin hosting ideas worth spreading.
When Karolina Stawinska took the floor, we all quickly related to the story she had to tell: every big achievement starts with a dream. Yet, at some point, hopes and dreams become irrelevant to the future or our curriculum. Multiple choices determine the tracks of our future. Her purpose? To cultivate hope for tomorrow by helping kids to visualise their dreams.
The next talk was about changing education from the bottom up. Basically, how to flip the system. That's what Jelmer Evers had to share. Using concepts including challenge-based and connected learning, personal learning environments and networks, game-based learning and gamification, Jelmer has moved away from traditional teaching.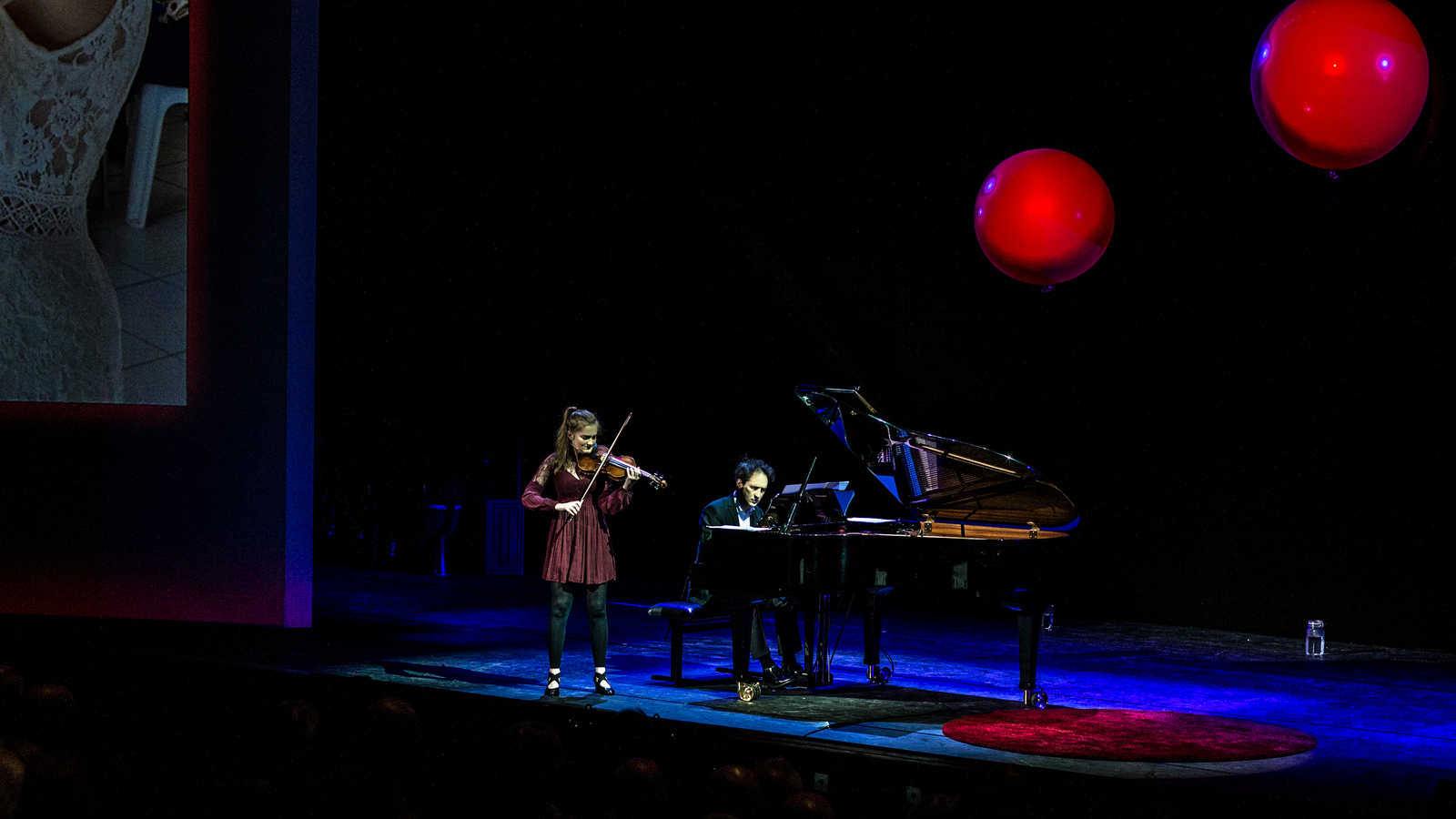 © Baber Raja
During a break between talks we were reminded music is an important part of a child's development. Music can improve focus, patience, self confidence, coordination, relaxation, and empathy. Therefore, music should play a more important role in education. That was Noa Wildschut's message, a talented 15 year young violinist with a passion for music education. She then performed an incredibly touching version of Gershwin's 'It Ain't Necessarily So.'
Next was Chris Sigaloff, who guided us through the problematic shortage of schools in the Netherlands and the paradox in education. Education cannot innovate itself. While other sectors are disrupted by the outside, rather than the inside, with education this is not the case. Thus she talked about crowdsourcing education and therewith creating room for the unusual suspects: people who view education in a different way.
Act 2
'Intellectual growth should begin at birth and cease only at death.' – Albert Einstein
The Children's Press Bureau (Kinder Persbureau) surprised the audience with their answer to the question: What does your ideal school look like? You can watch their intermezzo here.
The following speaker was 22 year old Jurriën Mentink. He vividly told us about his experience with intergenerational learning and the key to avoiding the rush of life. He explained how living in a retirement home has helped dissolve boundaries and develop real mutual interest. He proved how young and old can learn from each other.
Once on stage, Christine Wank talked about facilitating leadership and the importance of flirting with ideas, and not marrying them. Later, she shared some pointers on how to keep an open mind through the use of curiosity, compassion and courage. How can we address the challenges of our time without repeating patterns from the past? How do we apply methods and approaches to innovation? And how do we stay open and connected?
The Bitter Sweet Dance & Dansmakers Amsterdam tooked the stage next to show dance and performance has no age limits.
According to our next speaker Roshan Paul, the workplace as we now know it will dramatically change in the next ten years. He pointed out a new trend, which is only getting bigger, a tidal wave ready to break. 'How to create a career of meaning and impact?' Yet, he also alerted us that the education system is not ready for it, mainly due to the great mismatch between educators and employers. 'How do you close the gap?' 'How do you learn how to change the world?'
Birte ten Hoopen was next and spoke about how to bring learning to life. She had a clear point: we learn from experiences in 'enriched environments' in which we can teach and engage much more successfully. Birte took us on a journey with her experience as a theater and experience designer. How to think about the combinations of people, location and content, in order to explore how we can learn better by bringing lessons to life. Day after day. Class after class.
It was then time for the lunch break. The atmosphere in the venue was sparkling. People were talking nonstop and I could not stop thinking about all these fantastic speakers. While everyone was delighted with the formidable lunch that was specially designed and created by the Borrelfabriek, the interactive learning journey continued. In the entrance hall of the theatre there were different activities to encourage people to learn a new skill in minutes, like Chinese or holding chopsticks. Others sat in the ball pit to share some of their ideas around education and answer profound questions. I tweeted about them here.
Act 3
'Tell me and I forget. Teach me and I remember. Involve me and I learn.' – Benjamin Franklin
After lunch, the team of TEDxAmsterdamED content creators split up and went off to cover the different workshops and events – this year's new addition, the interactive program, which took all guests on a learning experience in a variety of different ways. You can read more about this part of the day here.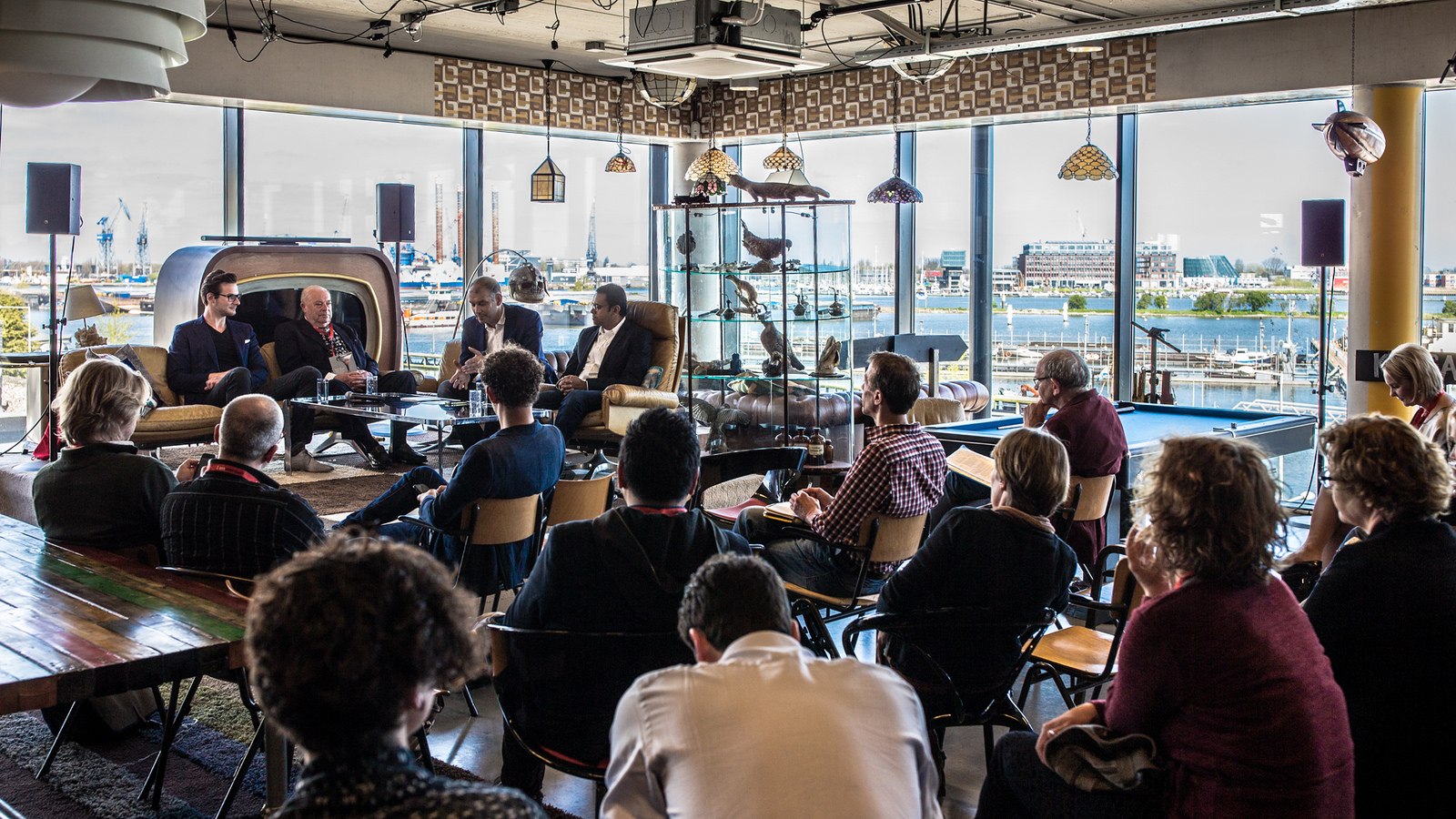 © Baber Raja
Act 4
'Education is not preparation for life; education is life itself.' – John Dewey
After the interactive program, we were delighted like the kids we once were while watching Ramana Magic, reminding us that we can all rise above ourselves and sometimes even help others to go beyond.
© Kerry Reinking
In her talk, young Isabella Biney asked the world to encourage teachers to give students the chance and freedom to discover their talents and learn from each other. While the world currently begs for numbers and wonders if we are good enough, education is bigger than the classroom. We are unique explorers, with the urge to learn how to think rather than being taught what to think.
What would happen if you began to say YES to everything? How about using the world as your classroom? That was the story mother and son Lainie Liberti and Miro Siegel had to share with us. They told the audience a story of co-creation between parent and child. A story of unschooling, where the intention to travel for one year turned into several years of an amazing journey.
For André Platteel one thing is clear: we are not separate from each other. We are all connected. If we think we are separate, emotions like fear, greed, aggression and oppression arise. He invited us to explore three ideas to think and act as a whole. How learning, education and school can help us to change ourselves first, so that we can change everything from the inside out.
As a short interlude, singer/songwriter Iris Penning cheered the afternoon with her voice and guitar.
During the afternoon, we also had a chance to enjoy the pitches of the three finalists for the first edition of the TEDxAmsterdamED Award (you can read about the bootcamp day during which the three finalists were selected here). The three finalists, Daniel Haven 'Flexible exams', Nathalie Lecina 'Drop-outs or innovators' and Michel Visser 'Konnektid', pitched their ideas in just 3 minutes each. Afterwards, the audience worldwide had the chance to vote online for their favourite idea. The winner was Nathalie Lecina, who then had the chance to ask the audience for specific support she needs to further her project to help students in vocational education find their purpose and fulfil their promise.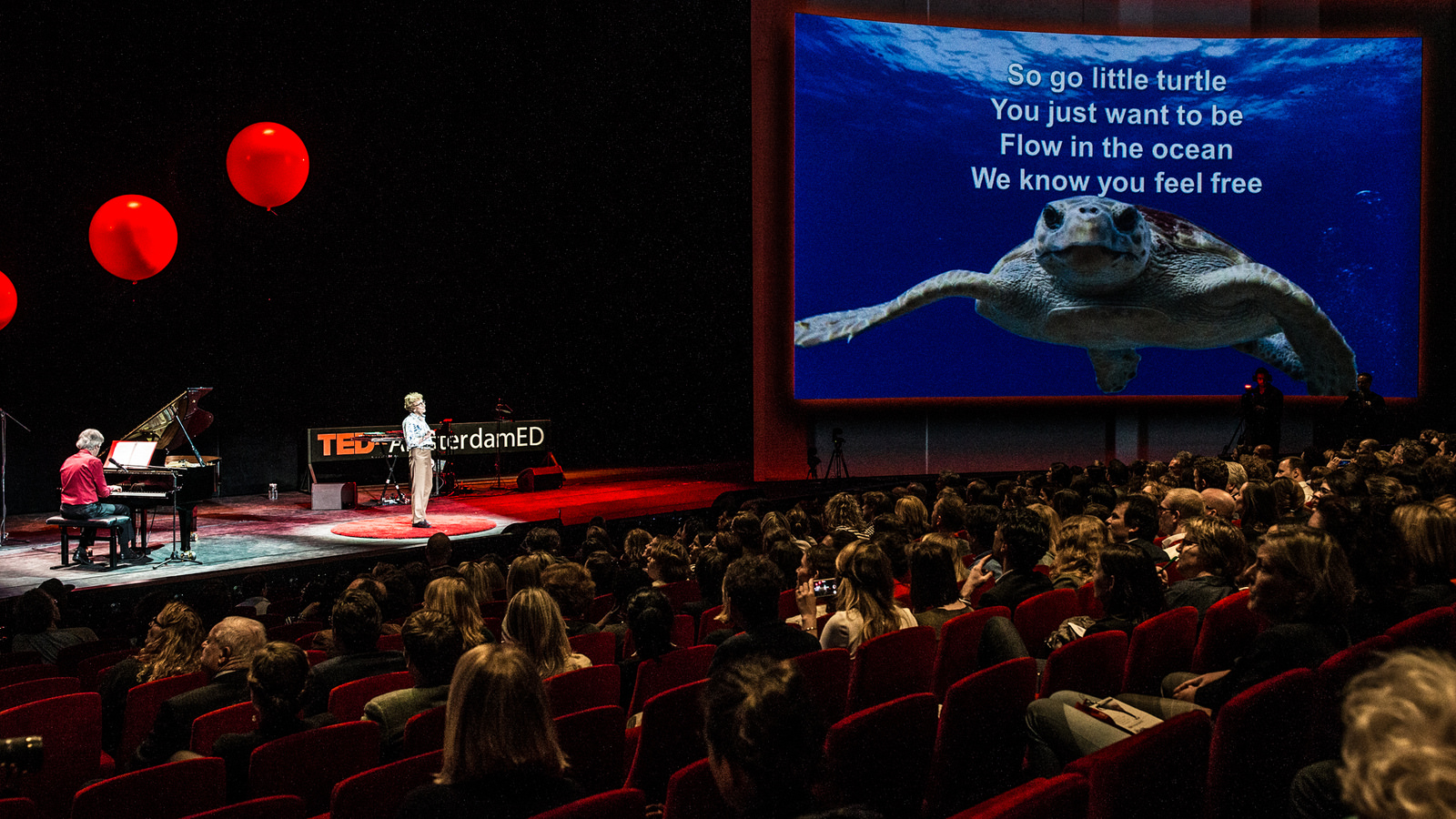 © Baber Raja
The topic of this year's event was #BornToLearn. Being present at a lifelong learning oriented event, I couldn't imagine a better speaker than Jacquelien de Savornin Lohman to end the day. In her 82 years, she has been a lawyer, university professor and a Dutch senator. After her retirement, she decided to continue to educate herself. Her lust for life prevents Jacquelien from feeling old. Back in 2004 she began her new career as a 'cabaretier', now performing all over the Netherlands and occasionally also abroad. It was a magnificent ending to the talk program.
In the closing act, we experienced Amsterdam-based electronic music duo CUT_ who teamed up with two additional artists – the classically trained percussionist Fabio Galeazzi and the cofounder of RedZebra Mark Dodsworth – to form CUT_ & Co. Together they dazzled the audience with their collective musical improvisation talents. We all stood up in the auditorium to dance and celebrate what was the end of a stimulating and fruitful day.
As I look back on the event, I think of all the speakers, sharing and nurturing different life experiences and ideas to rethink the way things are done. I also think about the audience, engaged in conversation about how and where we want to go next in the field of education. With such a creative, vibrant and innovative day, one can only expect that the dialogue between the internal and external sides of education is at its tipping point. Education is definitely hot. And that was my biggest lesson of the day!
Heading image – © Kerry Reinking